2019 marks another milestone in the unfolding story of how an industrial polluter in an urban setting interfaced with the community in which it unfortunately rests.
It is twenty years since I first noticed a dead swan on the rattlechain lagoon, which is how this all started and the long road to finding out more about white phosphorus and its toxic effects on wildfowl.
It is also a decade tomorrow when the same company who denied the bird deaths and lied about the chemicals in the lagoon that were really poisoning them made international headlines with the release of the same related chemicals and their breakdown products. This toxic assault on surrounding homes and businesses in the Langley area around the vile Trinity Street plant took nearly a decade in itself to be investigated by The Health and Safety Executive, and the foreign company fined, "Rhodia", morphed into "Solvay".
But whatever the name brand on the buildings, the former Albright and Wilson and their propaganda techniques have never really gone away.
Local residents still get a calendar through their doors promoting the toxic polluter who position themselves at the "centre" of the community, ignoring the fact that their COMAH top tier status puts every one of those people at great personal risk of harm.
When the practice drills and platitudes are put aside with the crackers of exploding BS , Solvay/Rhodia/Albright and Wilson failed to sound the alarm when it really mattered. THIS WAS PROVEN WHEN THEY FAILED TO SOUND THE TOXIC GAS ALARM ON 2ND JANUARY 2009, WHEN ER… A TOXIC GAS PHOSPHINE WAS RELEASED.
SELF APPOINTED CIVIC SOCIETY
From the days of the two founding families and their political connections, those at Trinity Street have always relied on their political friends for doing them favours. They are in with the police, and they are in with the Labourite union political class. Not surprising perhaps when so many union barons are themselves middle aged white men of privilege, but "up the werrkers" eh comrades.
Take for example their boasts about the Langley lights and providing backing for this Sandwell Labour council event. You don't have to look very far to see the connections.
You also don't have to look very far at how this company present their phoney "residents group"- supposedly made up of randomised local people who are able to ask questions and table issues about the factory and its effects on the local area. Many people unfortunately in Sandwell question little and are too thick to ask incisive questions about the local chemical industry and its dire effects on human health and the environment.  But when you have some people in a "residents group" to whom you have given money to groups to which they belong, the symbiont promotion is not difficult to see. Do you ask difficult questions of a host organism that provides you with financial support?
The same can be asked about "local history" and its links with civic society, and how some history can be airbrushed to present only a rose tinted series of anecdotes by people too close to see the bigger picture, or even present a balanced viewpoint. This is certainly the case in Oldbury and how the chemicals made there negatively affected the area. The smells, the industrial pollution, the fires, the deaths, the environmental pollution are never really vividly recalled and accurately sourced as they have been chronicled on this website, except framed within some form of cosy post war context that allows the present day polluter to appear as though they currently are much better than they used to be, and that this was something that just happened so many years ago. Phosphine fires are not a one off at Trinity Street.
Albright and Wilson were in the past shamelessly given advertising space within local history books, not surprising however when you learn that it is they who paid for the print run of these volumes. When the crap hit the fan in January 2009 in Langley, it was difficult to get away from the fact that very little had really changed in the dirty and dangerous polluting phosphorus factory, and also that with the advent of social media, local people had began to question more than the propaganda flyers could silence.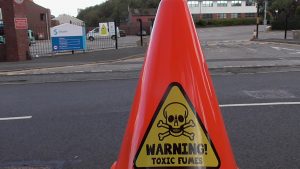 Oh how reassuring it must be that in 2019, 80 years since the beginning of the second world war, Langley still has an air raid siren to warn of a potential European assault on homes in the area and the prospect of toxic chemicals falling in the Midlands mist.
Langley is a place that always reminds me somehow of the Clint Eastwood film High Plains Drifter- especially in how the main protagonist moulds and grooms people into painting their town red at the end of the movie.
More homes are soon to be built on the doorstep of Trinity Street, passed by Solvay's best mates Sandwell MBC, but I have no idea of who would possibly want to live next to a frequent hazard sounding level crossing and this top tier chemical hazard site. But I'm sure that the occupants of these "quality homes" will be comforted that on their doorstep, a Belgian outfit gives money to cancer research and sends out Christmas cards with polar bears on.
2019 is also hopefully the year in which this country will emancipate itself from the dictatorship of EU politicians and business mandarins. Solvay's CEO, Jean Pierre Clamadieu, an ex French Government civil servant is a prime example of a Brussels based Europhile warning of impending doom and gloom about Brexit.
Should Solvay decide to close its British based factories after Britain leaves the EU in March, it would truly be a prosperous new year for the area; at last free from the grip of phosphorus based man made pollution.