I've noted previously that industries like those that operate from the serial chemical polluters from Oldbury rely on political affiliation. They also enjoy support from people who claim to have "never worked for the company" but appear proud to promote the multi national corporate brand logo on a T shirt, despite their strong socialist tendencies. 😆
But the reach of Albright and Wilson / Rhodia/Solvay stretches beyond the hazy, phosphine polluted sky, creamy fallout waters and the dog shit lined streets of B69, because there are those in local Government who are in long term service to the stars for the Crapsters of Trinity Street.
Take for example Mr Lee Jeavons, now Deputy Leader and Cabinet member for Regeneration in Walsall MBC and who represents the Birchills/Leamore ward.
He is as his declaration states, a "Pilot plant technician" at Trinity Street.
The phosphine plant at this site of course had a rather unfortunate incident involving a fire in 2009 where the company were recently fined heavily. It is interesting to read in the report by the HSE the manner in which not only the company set out to deceive about the amount of material released including white phosphorus , but also used delaying tactics to interview key witnesses  involved in the incident. But I'm sure they would have been given good union representation, unlike those who were caught up outside the site. 😉
The regen king appears to have been around some time at his station, and is associated with that dirty French outfit Rhodia, the non apologist liars about white phosphorus who were quite happy to allow birds to die in the White phosphorus contaminated waters down John's Lane until their lies were exposed by non industrial scientists. He is a current director of their pension trust, appointed in March 2015.
Recently, Councillor Jeavons with his council hat on, rejected a petition concerning the deaths of cygnets crossing the road at Stubbers Green, Aldridge in the borough, in an officer report with all the semantic flippancy that those at Trinity Street have perfected so perfectly before concerning rattlechain and the birds deaths there. In this case it wasn't "speeding drivers" at fault, it was "inappropriate driver behaviour" (who sped off). The employees of Trinity Street must truly believe that swans and water birds are there to plague them in their nightmares, or maybe just those who care about them and not their disgusting industry. 👿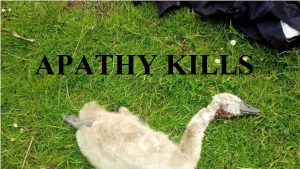 Both apathy and hypocrisy involving the very same unnatural chemical in question that the Oldbury crapsters could never contain in their lagoon of death, can be witnessed by something recent in the news . It is quite typical that this selective moral outrage is expressed at a country very far away, yet the satellite waste dump on their own doorstep plant never appears visible on their radar, despite this damning pronouncement via social media!

"THIS IS POSSIBLY ONE OF THE MOST DANGEROUS CHEMICAL ELEMENTS AND WILL MAIM MORE THAN IT KILLS."
Ignoring the fact that Albright and Wilson made the stuff dropped on Hamburg, it is quite something to hear this revelation from a Trinity Street employee, and even more ironic that the truth should come from the keyboard of an elected politician. 😆 What a shame that senior employees like his colleagues Tom Dutton, Alex Bann, John Scott,Steve Hampson et al could never illuminate ourselves with such truth at meetings when we were led up the garden path about what could be causing the bird deaths on site.
So I wonder then Sir, if this is what  less than a gram can do in your wretched laboratory under controlled conditions, can you say as a Rhodia pension fund trustee, what would happen if the tens of tonnes of white phosphorus admitted by your company to be dumped in Rattlechain Lagoon were to catch fire? That would ruin the fund wouldn't it?
Oh but I forgot, it's "safely stored under water" isn't it, and "it's the stuff that's used in toothpaste" isn't it, direct quotes that your liar works managers and health and safety chiefs stated when birds were being poisoned by ingesting this banned rat poison. "Aleppo" in the water is on you doorstep pal, don't forget that, and your paymasters the chemical industry happily polluted the water there for generations by dumping it there!
I pulled dead poisoned birds from the water, that died in my hands, only to later learn the truth of your statement. I can clearly visualise what milligrams of this chemical can do!
Not long before in time, the PO BOX 80 site operators still valued the rattlechain site as "economically viable" and if dumping ceased the Oldbury site would "have to close" .
And economics are what blind the selective chemical fallout commentator. As stated in a previous blog post, it appears that the post Brexit vote has riled the "remoaner" business community, and Mr ClamadiEU of Solvay and ex Rhodia is starting to spit his garlic dummy about threatening to do a British runner. Good luck pal, and good riddance, as I sincerely hope you do.
Just a pity there were a few mugs that bought into this nonsense to keep them afloat however. 😆
And so to another comrade, this time in Dudley who sadly, will shortly be leaving behind the corridors of Trinity to spend more time in Dudley .  😥 Mr Steve Waltho, former Nightmayor of Dudley is  a " shift team leader" at Solvay and a longstanding Albright and Wilson Oldboy.
Union main man Steve (so I guess we can fill that blank in), is also a member of Greenpeace! Well I suppose they'll accept anyone these days; they used to be a relevant environmental campaign body when prosecuting polluting companies like Albright and Wilson, but now it's just the same climate change drivel as much supported by industrial polluters and failed politicians, to the point that they have become largely irrelevant.
At AW he even had a hand in writing articles for Albright World, that paradigm of chemical propaganda which tried to bring together the aloof dying death knells of a family company with the turgid rigour of union stoicism. Tom Tomlinson was a serial PR  bullshiner for the toxic polluters.
What a scoop  on the discovery of AW bombs in Dudley, (when they were blown up and P4 and breakdown products expelled), an article which told of how they were moved from an area which he would later go onto represent in the council in the St Thomas ward, to Rattlechain lagoon.  Very grateful to you for that Steve. 😛
Solvay gave him a whole year off work when he became mayor in 2015; perhaps the fresh air did him some good. Others however were not so fortunate and as a long time fire fighter with the company, he has no doubt seen quite a bit of action, and that's where the downside may come in later life as he will be all too familiar with from those who are no longer here.
So this is not a blog post about any councillor wrong doing, far from it the two individuals featured have written very honest declarations and statements with which I would certainly never refute.  Solvay's pay role politicians however are in very good positions to be very useful for ClamadiEU and his aims, and whatever declarations are declared it does not change this. They are a now a part of the undemocratic and unelected West Midlands Combined Authority which can only be dangerous given the idiots who approved waste management licences such as SL31 in The West Midlands County Council before them. The one at least is also a long term service worker of 42 years, who contributed to what went into the Oldbury effluent stream. They are high profile players in the part of a bigger anonymous wheel.
It even now is a pity that many an ex and still current Albright and Wilson/Rhodia apologist do not recognise the direct part that they and their company played in the deaths of birds. No apology or acceptance that this chemical in the sediment caused the deaths of these innocent victims just emphasises their total denial of the deceitful chemical at fault- white phosphorus. Perhaps it is a light that clouds the minds of those that handle it with dense clouds of smoke. Here are just a few images of what that "dangerous chemical" can do. Don't take my word for it, just ask the honest politician.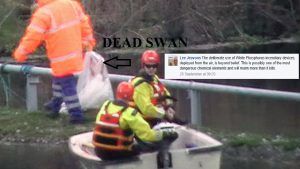 But as those who try to disguise the impact of chemical manufacture in the area see their ex chemical colleagues dropping dead at relatively young ages, they will when their time comes perhaps see the error of their ways in servitude to this toxic employer, for it will be those same Trinity Street tentacles that extinguish their last gasps of air before they see the light.