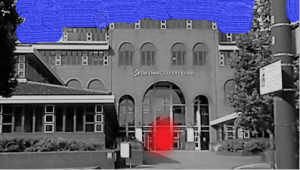 A historic General election revealed a very surprising result in the borough of Sandwell, where West Bromwich East, and West Bromwich West- where both Rattlechain lagoon and the Oldbury chemical factory reside, swapped hands to the Conservatives.
Sandwell has been Labour controlled for far too long and there have been many things wrong here for a very long time. Cronyism and nepotism are by-words for the borough.
From my own personal observations, the political and union links with Albright and Wilson and the spewing phosphorus factory have done the people of the area no good at all- both in terms of their health, and particularly as I know, wildlife and the environment.
The voice for the community on these issues was poor with Adrian Bailey, former Labour MP for WBW, and far too often he appeared tailored in a white lab coat and accompanying safety specs appearing as Mr March in their distributed propaganda calendar and other photo opportunities, which the chemical conmen used to promote themselves as important in the community. I suppose it is a symbiotic relationship with holding such office and unfortunately, he probably felt obliged to because of the union backing dependent on so many from the Labour party and its funding.
A so called "residents group" which meets at Trinity Street really isn't one at all, and the links of some of these people are clearly aligned directly to their own past links to this company and its financial success. I hear that not long ago to celebrate the 150th meeting, they baked a cake.  😆 Albright and Wilson/Rhodia and Solvay still provide Christmas lights in Langley, and the links with the Sandwell socialists are clearly deep.
But these people have always been out of touch, and as the uncontrolled release of phosphine gas event of 2009 proved, the statements and plans made by the company concerned were shown to be absolute garbage when they failed to even sound the toxic gas alarm. I had to go to great lengths to obtain this information under the FOIA , and it was quite clear that the regulator is on their side and not the communities. The contempt for the community by the company could not be more clear, but the elected political voice at the time was deafening in its silence, and not a word of ANY condemnation AFTER they had been convicted and fined by The Health and Safety Executive for putting people at risk from their inactions and incompetence.
We also have a situation where a number of the employees and now ex employees at Trinity Street are elected members in Dudley and Walsall councils. These people backed remain in the referendum, and were out of touch with the pro leave area. The CEO of Rhodia, ex French civil servant Jean Pierre Clamadieu has previously written letters about "the European project" and fear of losing it , which must hint that Belgian based Solvay's activities in the UK would be under threat if the UK left the EU. Of course, that is now going to happen, and so it will be interesting to see if  this "threat"- (actually not a threat but salvation for Oldbury), results in  "the last 5 years" of Solvay in the UK, and more importantly, the end of this phosphorus polluting shithole opened around 1851. I really do hope that it is, as it is quite apparent that they have been dropping process plants and staff for some time. 
I have blogged previously about the appalling lobby industry which exists in Brussels within the EU from the European chemicals industry CEFIC, of which Mr Clamadieu has always been a big face. This is certainly the case with glyphosate. And then there are the "scientists for the EU" and "Business Europe" front groups who also believe it is Britain's place to remain under EU control, against the will of the people where they believe that "populism" is somehow not an expression of democracy or a democratic vote, but an evil which needs to be quelled. Of course, it is the loss of the result which did not go their own way that these people just cannot come to terms with, and so their "educated" and enlightened viewpoint trumps all.
I do hope the new MP for West Bromwich West, also called Bailey, perhaps reflects on a few of these points before donning the customary white coat when invited on a tour of the factory, where he will be fed all types of bullshit about health and safety , and how important the company is to the area as an employer and in the world. Perhaps a little scepticism, a few awkward questions, a little research on white phosphorus and the evil in the world that it has caused within his new constituency by the new Conservative would be a welcome change to what has gone before. We also hope that he will not support the building of more houses next to a dangerous hazardous waste site. We hold our breath in anticipation of change and not more of the same red mist of promotional ambivalence to environmental and health issues affecting local people and wildlife. Please do not let us down.