It was certainly the case with their political and civic society "friends" , that the Albright and Wilson families and their company could buy anything or anyone that they wanted in the early part of the Twentieth Century. 
This is another example of one of their hapless workforce , who worked with the deadly threat of white phosphorus, in a time when health and safety did not exist, being screwed over by the society of friends from Trinity Street B69.
From 7th February 1933 the article from The Birmingham Daily Gazette, we hear the tragic story of James Walters.
Walters had worked for the company for 32 years, into his seventies, but had obviously had tooth trouble as a direct result of his work with phosphorus.
The Langley resident had felt a pain under his left ear (jaw). He cut himself whilst shaving and a swelling developed.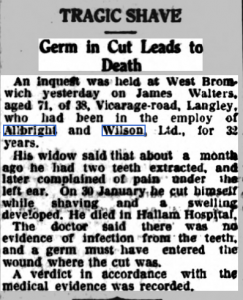 The doctors opinion (shit doctor) claimed that there was no infection from the teeth- yet of course how would he have found any if they had already been removed? The verdict was bullshit, and this man died of phosphorus poisoning and was probably suffering from phossy jaw, yet in the days before medical negligence solicitors, official blame being put on wealthy men employers was difficult to find.
We of course know that Albright and Wilson would later religiously spy on their workforce by forcing them to undertake tooth inspections to prevent litigation from direct phossy jaw issues. But over 40 years later after this mans death, the company medical "experts" were still lying about the dangers of P4 to their workforce, whilst making them the lab rat study subjects of their research. (Phosphorus necrosis  can only affect you if you have "weak or faulty teeth". )  🙄