A summary PDF of the reign of terror that Leigh Interests and associated companies inflicted on the area of Walsall Wood and Shelfield can be read below. N.B These are referenced primary sources.
Activities of leigh Interests and associated companies
Leigh Environmental Limited changed its name to "Onyx Leigh Environmental Limited" on  15th January 1988. This new Onyx brand was part of a much larger French operation. It does appear however that the name lived on in court papers as an article from 14th January 2000 shows. 
We already know that this company were a serial waste polluter and a statutory nuisance in the area of operations in Walsall. But this article casts doubt on their protocols and one can also wonder if the falsification of records was a one off or part of a much larger web.
"Leigh Environmental pleaded guilty to seven charges of breaching its licence conditions after it was found to have sent false information to the Agency about leachate levels at a landfill site at Coalmoor near Horsehay, Telford and about difficult waste at a landfill site at Ling Hall near Warwick.
The investigation showed that the figures had been falsified by a single employee. In all, 252 out of 517 reports of levels of difficult wastes passed to the Agency had been falsified."
The article states that the company had been fined four times since 1991 for breaches of licence conditions and regulations, but the latest incident where they were fined £100,000 showed they were not above outright fraud.
The difficult wastes referred to being mixed with other wastes were of course happening throughout the regime in Walsall. Unfortunately this form of self monitoring is one which can only lead to fraud of this type and is an abject failure of all environmental laws.
"After sentencing, Steve Morley, the Environment Agency's Area Manager for the Upper Severn Area, said: "This incident was extremely serious, especially considering Leigh Environmental Limited's poor environmental record in the West Midlands.
"If the amounts of difficult wastes had been continued to be dumped and figures falsified, there was a risk of environmental damage occurring," said Morley. "
Of course I would point out from my dealings with him, that Morley himself was unable to see the environmental damage caused by the dumping of white phosphorus and its systemic poisoning of wildfowl at Rattlechain lagoon at around this exact same time.  🙄
I just wonder how many figures had been falsified in Walsall throughout the WMCC and the Hazardous Waste Unit's regulation?
A side chain to the demise of the Leigh name is that three of its directors set up a new entity called "Park Environmental Limited". One of this company's prime contracts at one point was delivering the toxic waste for Rhodia to Rattlechain lagoon that was poisoning and killing birds which landed on there, just as one of the big players in the early Leigh company from Alfred Matty's had been doing many years earlier . What a wonderful bunch they all were.
In 2005 the Veolia name was changed again  to Veolia Environmental Services. The new branded logo is visible on what remains of the Empire Works Site. 
I don't live in this area, and so have no axe to grind one way or another in terms of the effect of the landscape that remains behind, but I do have eyes and an opinion based on similar dealings with the likes of Rhodia and the pure bullshit bureaucracy of many agencies who frequently pass the buck when it comes to looking at the onerous impact that industrial concerns have on the environment. Too often they look the other way and defer your complaints and concerns to someone else. The phrase "It's the responsibility of….." appears to be the first thing that civil servants and political actors learn to say when taking up their useless roles.
The waste regulation of  sites controlled by Leigh Interests and associates was abysmal and a failure by the West Midlands County Council and then Walsall council's hazardous waste unit. It is clear that this weakness was exploited throughout these years by the management and directors of this company. The likes of Malcolm Wood offered problem/solution scenarios , all tailored around benefitting his company's continued operations and shareholder profits.
Having taken a walk through the area, the Empire works today controlled by Veolia from the canal and public right of way reveals a vacuous vessel of containers of varying hazard in numbered bays. The smell is one of cleaning solutions which perhaps gives false perspective about the dangers arising from storing bulk loads in one place.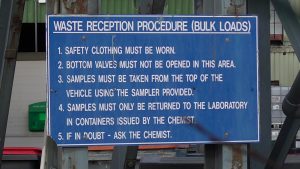 A PR board records the Veolia statistics like many other corporate driven machines, and which also probably equates to senior managers getting bonuses for keeping these down. The last RIDDOR incident according to the day I visited had happened over 2 and a half years ago, but accidents reported at two per month. Who of course judges these is open to question.
The gates off Stubbers Green Road where CAATW blockaded the entry of tankers into the works are now wide open and unguarded, but clues remain as to what had gone on before all those years ago.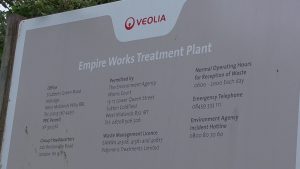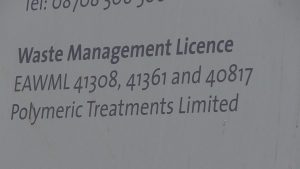 The following weighbridge ticket was found discarded and blowing in the wind on the public pathway between the Atlas brickworks marlhole and the plant. It reveals that Veolia retain the original WMCC licences on these SL51,SL231 AND SL323, which refer to the renumbered five number permits above and still refer to it as "The Polymeric treatments plant"! 
The drums refer to "EWC 09 99 99" (European Waste catalogue). I cannot for the life of me find this classification, and am wondering if it has been filled in incorrectly. 09 relates to "wastes from the photographic industry" , and these are included within the permit)- but the other numbers make no sense at all.
I found another ticket more recently, and again the same reference is made to this consignment of drums. One also wonders given that the three triplicate colour coded sheets were blowing about on the path as to the adequacy of records being kept regards where this waste is originating from? What is the point of even generating such discarded and incomplete records?
An FOI request to The Environment agency revealed significant information about the varying permits now regulating the former Leigh site, and some of the older superseded ones. There is no question that these offer far more controls and safeguards than the pathetic rubbish drawn up by the likes of Ken Harvey from the WMCC. I am not going to go into a full review of these on this page, but the request puts them into the public domain where previously they were absent, and it may give some local residents interest as to what lies in their backyard today.
They stated that "Prior to the Waste Management Licensing Regulations 1994, a permit holder could simply hand their permit back to the regulating authority, there was
no requirement to make an application to surrender the permit….SL 323 was never surrendered, Permit XP 3037SE supersedes parts of SL 323."
This permit issued on  24/11/2006 consists of 52 pages and includes the following summary of historic events, though is very patchy about the dismal failures that had taken place within this time frame. Unfortunately this is one of the big cons of the Environment Agency and their records telling a very diluted story- the one which benefits the business polluter. "The site has operated under waste management licences since the 1970's." – that's just leaving a little bit of information out FFS!
Confirmation about the three former licences are also mentioned.
A list of permitted waste types, quantities and conditions can be read within the permit.
8 modifications to this permit, also supplied by the agency in the request were made on
and can be read at the links.
Within these documents it is apparent that some of this waste is "treated" to be discharged to sewer. This appears to be the enormous "Iraqi supergun" ,(for want of a better phrase) black pipe that runs out of the site.
Of course the buried historic information of Leigh's legacy is very difficult to find, which is one of the reasons why I have researched the history to put it in the public domain. I have already been contacted by people living in the area who were unfamiliar with the Leigh Story and what was filled into the voids beneath their homes many years ago. The "time bomb for the future" spoken of by Councillor Barton and foretold by others before him is still very real, but one which I fear is and will repeat itself in the years that lie ahead.
It does appear that local environmental issues have again come to the fore with an industrial nuisance being caused by the Enovert Highfields Road landfill- the site being directly adjacent to The Empire works site. Once again smells and fears about health have been raised with Walsall council and The Environment Agency by local residents , but it does appear that history is repeating itself with whimsical statements from the powers that be and a buck passing exercise just like all those years ago with Leigh. 
The blight on the landscape that this company caused gives rise to another ominous vessel in the shape of the still active/former Atlas brickworks Marlhole, now Sandown, formerly run in partnership with Beddow by the Barnett family of Samuel Barnett's Rattlechain fame.
Who knows how long this site will be actively digging for brickmaking materials,  but no doubt it is already being eyed with relish as a potential target for industrial tippers of the future, and Walsall council themselves. 
Someday someone with a brain cell will realise that filling in holes with human rubbish and hazardous waste is a terrible idea. Unfortunately, I fear that day is a long way off with business industrial polluters still rampant, and politicians who put their interests first ahead of residential dwellers.