This is just a quick update, as I'm sure many local people will be aware by now, that this vandalised abandoned West Bromwich site is finally being bulldozed and raised to the ground.
For months, I along with others it seems had been trying to get anyone , just one organisation ,to take some form of lead and stop dangerous materials from this ex factory site from entering the canal and beyond. 
Several fires including a serious one occurred where the fire service idiotically pumped the contaminated water back into the canal. 
In desperation , I had even contacted Persimmon Homes, who had been given planning permission from SMBC last year to build houses at this very site. But their response was limited to say the least!
It now appears that they have finally found out where West Bromwich and Phoenix Street are as the pictures below show.
Persimmon it seems have now erected a sign off Phoenix Street, which they appear to be giving the name "phoenix wharf"- how often these dubious house builders come up with such pretentious shite. I think it very unlikely that they will care about the state of the canal which they helped through their negligence to pollute, but will no doubt attempt to con people through their literature into believing they are buying a plush "canal side setting home".  I think I might have to hand out some flyers to prospective buyers when the show home sales sweet opens.  😈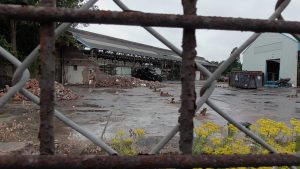 We will also no doubt then once these houses are built have the prospect of Severn Trent Water "misconnections" going into the drink to further pollute the waterway. Till then , enjoy the dust.