This is the last but one part of the Leigh Environment-HELL story files, and the one which is the most important, as it involves the community who experienced this outside industrial polluter and had to put up with all of the issues that went with it.
It is perhaps important to place this in context with the political landscape of the area in which Leigh Environmental and their subsidiaries arrived. The area of Aldridge/Brownhills is in a Parliamentary political seat that had for many years been a marginal constituency. Contrast the more industrial typically labour voting area of Brownhills with the leafier Tory Aldridge and it makes for interesting punditry. The local council ward of Rushall/Shelfield where the Empire works were and still are situated still change hands on a regular basis between the two main parties. Though this should not be a major consideration in opposing such polluting sites, it was inevitably going to provide a platform for some to use the issue for their own political purposes when looking for votes. This does not appear to have been the agenda however in the early days of the campaign, and "COMMUNITY ACTION AGAINST TOXIC WASTE" (CAATW) ,  was perhaps a fine example of 80's/90's environmental activism  in an era when big business attempted to pull the wool over people's eyes with their pr brand of "health and safety."
As has already been seen, both political and public opposition to Leigh's "West Mid" project, the use of the Mitco lagoon and the dodgy  "sealosafe" process was a hot local issue. As Leigh continued to flout licence conditions and import more hazardous waste streams into the borough, so awareness of this intensified with direct action demonstrations outside the gates of the company, in an attempt to turn back lorries bringing the hazardous waste onto the site. It is clear that the issue was only brought to the fore AFTER the campaign had written to The Queen, and the letter then being forwarded back to a shame faced Walsall council, (see placard far right in top picture above),  who frequently talked tough but were shown to be impotent in action. Many news articles tell the campaigner's story in the first four pivotal years, and I set these out chronologically below.
1988
It is revealed in The Sandwell Evening Mail 14th January 1988 that a 1500 name petition had been handed in to Walsall Council in respect of the Empire works site. What is quite clear about this, and Walsall council's sudden apparent interest (baring in mind they had been granting Leigh favours for years), was that it had been originally sent with a letter addressed to The Queen.  
From here, via the Department of Environment, and back to the local authority,  it obviously embarrassed Walsall council into taking action. This was undoubtedly a shrewd move on behalf of the protestors who has suffered years of problems expressed as;
"It causes vomiting, headaches, sore throats, stomach upsets, and can trigger off attacks in people who suffer from asthma."
This doesn't appear to be some random hypochondria, given that the matter was raised at The British Medical Association conference by Walsall doctors due to the number of people they had seen complaining of the same symptoms in proximity to a plant involved in toxic waste disposal.
The claims made by Edward Wilkinson of Leigh should ring alarm bells in that he did not welcome external independent consultants. The claim about the company being "environmentalists" in light of their previous convictions and failings are absolutely laughable.
Some months later the same paper  Tuesday 31 May 1988 reported that Walsall were considering taking action against the environmental polluter's subsidiary Leigh Land Reclamation Limited– who had outbid them to control the landfilling operation near Brownhills- (Licence SL266) . A report by the council had been compiled which indicated failures under The Control of Pollution Act with uncovered rubbish being found.
Matters in the area as well as throughout the country involving the company came under even more intense scrutiny, including a Parliamentary debate, with the story of the Karin B ship. The story of this toxic cargo originating in Italy on a West German ghost ship can be read in excellent summary in this article. The link with Leigh Environmental is that they saw a payday from this which horrified both the community of Shelfield as well as the local councillors.
Having been turned away from many European countries under naval escort, the idea that it should find its way into the landlocked borough of Walsall in West Midlands – "the dustbin of the world" was the straw that broke the camel's back.
The early September Sandwell Evening Mail articles highlight how tensions were ramped up in opposition to the idea of Leigh Environmental being able to import this foreign toxic shit.
From 1st September 1988 , it is revealed that many people were about to protest outside the Walsall Council House. The council were talking of obtaining a High Court injunction against the firm's proposals to import the waste.
The comments made by Leigh director, Wilko , are typical of the time, when people who lived in the area were somehow "insulting" the people who worked for this dire failing polluting company. Wilkinson himself lived nowhere near Walsall, in fact not even in The West Midlands County. 
100 local people, including children had protested outside the main gates at his company's site with a banner stating "This company's profits are another countries poison". 
In the following days paper, we get a report on the meeting, which tells us that 200 people attended the event. Jeoff Kirkham of Walsall council stated that 94% of The West Midlands' imported waste was being taken to Walsall, and in the first half of 1988, this had amounted to  26,100 tonnes of waste, the bulk of which was also the borough's problem.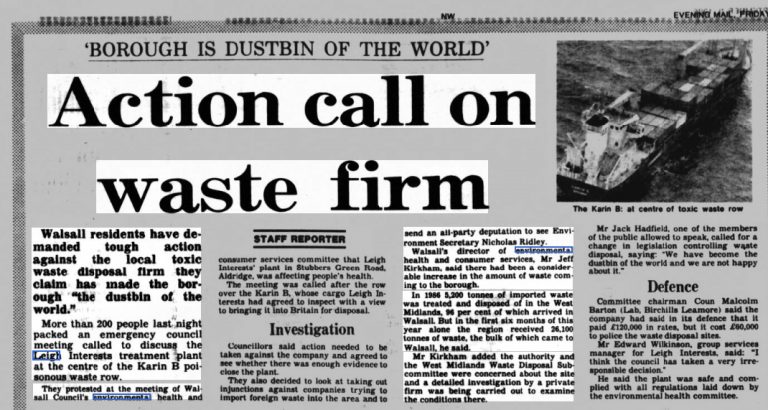 On 3rd September, another article shows that The MP's and MEP's in the area had sized up the Midland's waste issue. It also confirms the rubbish claimed about Leigh being a "reputable company" ,with the report stating that they were due in court on multiple charges of dumping waste illegally at the landfill site off Birch Coppice, as well as illegal depositing at the Stubbers Green site. 
On  30 September 1988 , Walsall council announced their intentions to prosecute Leigh on breaches of its licence conditions. The report of open containers of cyanide being stored at The Polymeric Treatments plant, with several licence breaches for this site, (I assume licence SL51). Leigh Land Reclamation- of the Birch Coppice site, were also found in breach of that licence (SL266).
On 1st October, the paper also told how protestors from CAATW were to march against Leigh, from the site to Walsall Town Centre, with thousands of leaflets having been delivered by campaigners across the area. The claims made again by Wilkinson, again disrespect those taking part- NB over 4,000 people had signed the petition, and I'm sure that most of those had not been persuaded to do so for "political " reasons.
Two days later, the campaign is shown to have resulted in calls to kick Leigh Environmental out of Walsall, and a plea for a referendum on the issue.
On 25th October  another rally story noted how pictures had been taken by campaigners of PCB's being stored in poor conditions in barrels at the site. These were of concern because of the infamous Seveso incident in Italy where dioxin had been released into a residential area. With the dire record of Leigh Environmental pollution, it is perhaps no underestimation of the concern generated that these carcinogenic materials were being haphazardly stored so close to local homes. 
1989
The Sandwell Evening Mail of 8th March 1989 revealed that this company and their activities were at the centre of a report by The Commons environment select committee investigation  into toxic waste disposal.
The comments concerning The former West Midlands county council's role in managing this farce are I am afraid quite laughable. They had been an inept regulator from day one, but this was unfortunately via central Government, and the toothless and careless Nicholas Ridley , a continued licence to keep on dumping.
Another Mail of 14th March 1989 showed that the protests in the town had not died out.

In June, a symbolic protest outside the gates of the company included survivors of the Bhopal disaster from India.
This coincided with Leigh announcing large profits- from their "treatment" of toxic waste, which was hardly being passed on to the local community.
It was also revealed in this month that one of the regulators "top" inspectors of The Hazardous Waste Unit, David O'Connor had jumped ship and joined this industrial polluter as "technical manager",  that he had supposedly been tasked with scrutinising over many years.
This of course did and should have rung alarm bells in what skills or information Leigh, a company whom this man had presumably been responsible for prosecuting for the authority in recent times, and perhaps many other live investigations that they had yet to, were trying to gain from him in giving him a job. The ability of civil servants being able to jump into the private sector such as this remains a disgrace to this day, and should not be allowed under law. It also perhaps made local residents untrusting of Walsall council, and particularly individuals who were at the forefront of making complaints against this company concerned about their personal information- at a time when the Data Protection Act was still fairly new.
It does however, given that O'Connor took part in a ludicrous photo opportunity for Albright and Wilson's "efficiently managed" site at rattlechain ,(which he was also responsible for failing to effectively monitor over many years), perhaps shows that the WMHW Unit were not exactly losing anyone of great value in terms of "technical" acumen. Note for example in that picture, his failure to wear a single piece of PPE on the hazardous waste site!
From 31st August, The Evening Mail reported on the 1st anniversary of protests outside the gates of Leigh. These were taking place twice a week, and it is clear that they were having a watchdog presence on the company, which far exceeded anything that the local authority were doing.
1990
On 20th June of 1990 , it was revealed that a large demonstration was to take place outside the site , with groups from across the country taking part in "a national day of action".  The article also mentions Leigh's site in Peartree Lane Dudley which had also by now attracted major local opposition, not least the idea of importing radioactive waste into the borough! 
Three days later, a follow up story showed that CAATW had won the support of Friends of The Earth and Greenpeace, when they were still creditable organisations not obsessed solely with the "climate change" death cult of today. 
By the time that the second anniversary of protests at the Stubbers Green site came around in August of that year, as recorded in the Express and Star article below, the banners record the investigative failings into "sealosafe" buried beneath the houses, which had shown Leigh to be a disreputable waste disposal company. "Green in name, but not in nature" was a fantastic catch line.
In September , a delegation of campaigners, led by an MEP, were to take a dossier of information to Europe, involving complaints; and specifically mentioned is the Harwell report into the failures of sealosafe and Leigh to manage their site properly. 
This was I am afraid a big red herring in the campaign, as the EU may have appeared to be an outlet to press for reform, but it was and still remains a vessel infested with chemical industry lobbyists and sheisters for their allied waste disposal industry lackies. It was the same EU that had failed with regulation in Sevesco, places such as Rattlechain lagoon (which as previously mentioned, its inspectors thought of as "efficient"), and of course had failed to monitor what EU member Italy had been doing in launching a ship laden with hazardous waste around the world that no one- except the scummy Walsall Wood polluters, wanted.
One should question the report written by Walsall Council , as mentioned by Leigh in the article.
On 16th October , The Evening Mail stated that experts were investigating the 400 million tonnes of waste that had been dumped into the vacant mine shaft workings. The claims made by Leigh about the waste poured down the hole being "treated", is of course reference to their fake sealosafe product. As would be revealed in these investigations, the "seal" had not set at all, and it was more like pickled slurry that had filled the voids. In this context, their records of what had gone down there, as well as the claims that there were no ill health effects are shot to pieces. WHY WOULD ANYONE BELIEVE A COMPANY THAT HAD NOT DONE AS IT SAID IT WOULD WITH THE TOXIC WASTE? THE WASTE WAS UNTREATED. 
1991
It was revealed in  11 January 1991 Sandwell Evening Mail that a second of Walsall council's run West Midlands Hazardous waste unit had jumped onto the Leigh gravy train, or perhaps that should be mine cart. Andrew Morris had joined David O'Connor.
Also from this month, more protests took place outside the factory, and at this time, the company were also causing concern in Dudley with a waste site there (as mentioned in an article above) which had led to similar protests and links of solidarity between others fighting toxic waste sites in their own neighbourhoods. What is clear from the photograph below which appeared in the Express and Star archive , is that these were increasingly being fronted by political actors, and less by the community themselves. The two Liberal Democrat councillors (not from the actual area itself, and a Liberal Democrat MP Malcolm Bruce, from Scotland), appear in front of the protest signs and the familiar company sign.
The CAATW appeared to continue on into the mid 1990's, though in truth never sustained the level of "action" it had had in its early heydays when it was a non political movement. Does this indicate that Leigh had "cleaned up" their act? Unlikely, as there were prosecutions and controversies  that continued for many years, not least the toxic waste still buried underneath the ground and "cemented" by their fake industrial polymer, which was exposed as such in a prosecution. They were probably better skilled at avoiding detection, not least from recruiting those in the know about potential regulatory loopholes. Stricter waste controls may have helped, but what had gone in already was never really dealt with at all. It is easy to just "cap" the crap, and to forget about it forever more.
Leigh were also a company who would attempt to ingratiate themselves into the community by putting on events and sponsorship; it may have bought some of the simple minded , but those at the forefront of the campaign could see these bribes for what they were.
The community had perhaps reluctantly learned to live with a polluter they never wanted, with bureaucrats and political failures who were useless at enforcing the weak environmental laws. Toxic waste dumping as an environmental campaign cause became less newsworthy in the headlines, to be replaced by "climate change"- an industry itself promoted by academia, the political class and business polluters themselves to perhaps take the public gaze off their toxic waste dumping practices from which they all prospered to the cost of human and environmental health.
When people are looking up to the global skies, they are no longer seeing what is being buried locally beneath them. Perhaps it's time we started to look a little closer to home again at what lies beneath in our own back yards instead of  polar ice caps.