The sister dumping ground site to rattlechain lagoon –The Gower Tip is another of Albright and Wilson's toxic legacies for the future. I have written extensively about this site and will provide those links within this post. This post is an update on developments which have come to a head over the course of the last week and follows the last blog I wrote about this site in October when it was apparent that Rhodia's environmental consultants, ERM,  were pottering about on this site after having conducted a tree massacre earlier.
The site is immediately adjacent to the Birmingham Canal Old Mainline , and you would not be able to see much from this restricted view, except the token warning signs from "Rhodia Limited"- , the convenience name under which  Solvay operate for the Albright and Wilson mothballed shit holes that they attempt to distance themselves from their own Belgian brand.
It is also unfortunately now bordered by homes built by Morris Homes – specifically GEORGE WOOD AVENUE AND BHULLAR WAY.
Some basic info before reading on….
This site was another "contentious site" given a site licence numbered SL32  by the useless former West Midlands County Council in 1977  and more latterly EAWML 40910 by the Environment Agency. Prior to this, Alfred Matty the canal carrier took waste to the site by barge,  as they had at Rattlechain. The licence allowed Albright and Wilson to deposit the following.
Phosphorus pentasulphide 30tons/year
Phosphorus sesquisulphide 2 tons/year
Dross from limestone mixed with small quantities of calcium phosphate 10 tons/year
Sodium carbonate mixed with small quantities of sodium phosphate 5 tons/year
Building rubble and lagging contaminated with ASBESTOS 5 tons/year
Paper packaging contaminated with sodium hydroxide or sodium carbonate or lime or trace quantities of other materials of similar toxicity  15 tons/year
*Inert waste for use as cover.
I uncovered more about this site when looking into the granting of the licence by the WMCC waste disposal committee.
"I Background
This site is a former clay marl hole which has been used as an industrial tip since 1938. The site has received large quantities of toxic and hazardous waste since this time. These are mostly comprised of various compounds of phosphorus together with some radio-active wastes, laboratory chemicals, solvents e.t.c. The site represents the major disposal outlet for the Company's waste phosphorus pentasulphide and phosphorus susquisulphide.
These waste arisings are the main problem associated with this site since they are highly reactive especially with water. "
The licence was surrendered on 22 April 1994 and cancelled with effect from that date. Sandwell council in an FOI request in regards to investigating contaminated sites stated; "The Gower Tip has been assigned an inspection priority category of 3, i.e. contaminants may be present but are unlikely to have an unacceptable impact on key targets. The site has yet to be inspected under the strategy and therefore no determination has been made in respect of its condition; it is therefore not possible to say at this stage when this site will be subject to a more
detailed investigation."
I have recently uncovered a news article prior to the surrender of the SL32 licence, but it is important to remember that "surrender" does not mean that the site does not pose a risk- especially as this surrender long predated any built development around the borders.
This is from the Sandwell Evening Mail from 1990, and forms yet another of Albright and Wilson's toxic archives. It appears that "a grass fire" had started at this site and that the fire brigade had had to force entry into the site to fight the area affected. Once there it is confirmed that they found a 45 gallon drum of phosphorus pentasulphide- part of the hazardous licenced waste allowed to be deposited there. We have of course come across the dubious "grass fire" before at Rattlechain, when Rhodia left some barrels out to dry that had been in the white phosphorus contaminated sediment as bird deterrents when roped together across the lake. It was certainly this that was the cause of the grass setting fire, and I have little doubt that the flammable chemicals on the Gower Tip were the cause of this one too.
What is more bizarre is the claim by the WMFS spokesman that they were unaware of the site. I have to say that I just do not believe this statement at all, but if true shows just how little WMFC actually knew about such sites at this time. Just months earlier they had fought another chemical initiated fire at Rattlechain caused by a tanker driver dumping a barrel of white phosphorus waste , and attempted to put out community concern with bullshit words that were straight out of the AW spin book. Indeed AW's own fire service boasted about training with the professionals, which makes it even more implausible that the works management at the site had never told them about the Gower Tip, and its hazardous contents.
One also wonders how they had missed the required hazardous waste area notice board at the entrance to the site, that is of course if it had not gone missing , as it frequently breached licence conditions at rattlechain!
It is even more of concern as to the type of hazardous chemicals if the fire service had used water hoses.  In doing so they would have made the situation worse, and put both them and any passers by in immediate danger.
Phosphorus pentasulphide's reaction with water gives off hydrogen sulphide gas, which is toxic in itself and smells like rotten eggs, as well as phosphoric acid which would cause people immediate eye and breathing problems.
P4S10 + 16 H2O → 4 H3PO4 + 10 H2S
As I had observed in October, Rhodia/Solvay's environmental consultants ERM were pottering about at the site, and I speculated that this may have had something to do with the ludicrous garden city proposals that believe that it would be a good idea to build more houses next to this unremediated chemical dump.
This week I happened to notice a mechanical digger present at the site and actively being operated! It was quite apparent from my view at George Wood Avenue that this was moving earth and bricks from near the border of this Morris Homes site.
This operation saw a waiting dumper vehicle ready to receive these materials which was then driven to the middle of the site were it was tipped.
I then went up into the Gods at Bhullar Way for a more commanding view of the scene. It was apparent that a site welfare cabin was on site, in an area obscured from the canal. Next to this was some form of water bowser as well as skips waiting to receive something, and given the Veiola label on them, no doubt hazardous materials.
What was also apparent is that the dumper truck was dumping the waste into trenches, which must have been already dug to receive this waste. This is certainly no vegetation management exercise, so don't come out with this bullshit explanation Dutton or anyone else reading this, I have the evidence! This , given what we have already discussed about the known materials on this site just inches away from people's homes!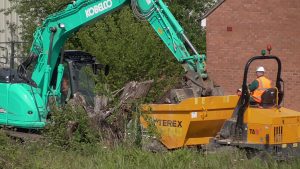 Another interesting observation was the apparent removal of The Rhodia danger notice board. As the site is not accessible to the public from Lower City Road- (it is now human shielded by a school and a playing field), one wonders if this will ever be put back, or just left there gathering toxic dust?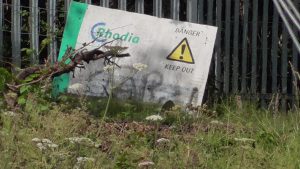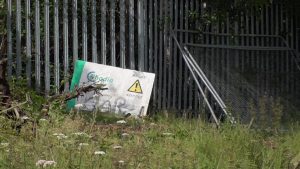 I don't think that this was a tombola either!
The extent of shielding the public in their homes from the asbestos contaminated and chemicals in the soil is derisory, but it is of greater concern to me that people who live in these houses know very little about what they are actually living next to, just like those on the former sewage works site at Rattlechain.
Morris homes of course are not around any more, but this priceless boast when marketing these houses cannot be bettered in terms of freshly squeezed bullshit.
In light of these dangerous works taking place I made immediate enquires of the EA and Sandwell council. It is Sandwell council's job under part 2a of the environmental protection Act 1990 to monitor such sites and uphold protection of the public from them. The response from them was delayed I have to say, and when it came from their contaminated land officer, stated that "it was a planning matter". Well I'm afraid I don't really buy that!
DC/19/62668 | Screening opinion for proposed remediation works at The Gower Tip. | Land Adjacent Former Sportsground (The Gower Tip) Lower City Road Tividale Oldbury
It appears that the bogus version of Solvay using ERM, put in this scoping opinion earlier this year in terms of remediation works- perhaps a bit bloody late 25 years after the licence had been surrendered and now houses built right next door!
Sandwell council
replied to this at the link below quoting the 2017 legislation that had not been in place when Rhodia carried out "remediation works" at Rattlechain lagoon in 2013. This work would no doubt have required a similar "opinion".
DC_19_62668-SCREENING_OPINION_LETTER-991807
The planning officer told me that she and the contaminated land officer had met with representatives from the company about this at an earlier date and told them that this would be required and planning permission for the works. (I smell an FOI coming on there) 😛
It is noted from this written response that planning permission is specifically referred to in terms of submitting literature regards human health and environmental health effects of moving around known hazardous materials buried in soil, and the toxic soil itself. People can be exposed to many pathways both air born and through potential liquid materials reaching their homes.
I sent the officer the pictures above and noted her concern at events. I do hope that SMBC, in a week with "clean air day" when they boast about cutting vehicle emissions by using electric vehicles, will actually do something of more use in preventing dangerous substances affecting people's health by ludicrous and reckless unsanctioned operations going on at this site currently.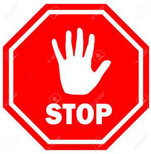 The timing of all this are of great concern, and should be to any local residents living in this vicinity. There are clear reasons why Solvay are doing this work at this time, all connected to SMBC's ludicrous "Dudley Port Supplementary Planning Document" to do with creating housing. The map below from this document shows the proposed sites adjacent to the Gower Tip, which is unlabelled, but I have correctly doctored below.
Is the aim of the site owners and their environmental consultants to remove the contaminated material forming an immediate border with the houses and dumping it in the middle of the site to replace it with "clean cover" prior to approval for "remediation works"?  Is it then the case that laboratory tests will be carried out on this same newly laid material amazingly finding very little in the way of contamination meaning that they can all spin the line to local residents and the council that remediation can be delivered successfully and safely? They could even get the Public Health England and someone attached to SMBC who used to work for them to set up a "steering group" like they did at Rattlechain and come out with a bullshit human health risk assessment.
Who's to know? Certainly not SMBC who have "yet to inspect the site", and are relying on the honesty of this inherently dishonest company to give them the facts? But is it in the interests of SMBC themselves to want to find anything harmful in the soil around people's homes, when they and WMCA Tonka the Mayor Andy Street and his entourage are so committed to "brownfield first"?
I can only urge local residents in the vicinity to contact their local councillors and environmental health at SMBC if they have concerns– because they should have!