This post is about the moral decay of two large companies and how they have caused major problems for others whilst profiting from their failure to prevent pollution in one case and total ignorance to prevent it happening in the other. We are talking here about Severn Trent Water and Persimmon Homes.
I have dealt with the disgusting manner in which the former company have been responsible for allowing a pool in Smethwick to be contaminated with human excrement on the sister website to this , Save Our Sandwell Canada geese, and also how their asset in another park led to the issues of bird deaths there. I believe the human excrement to be the source of all deaths  at both sites, and there is no evidence to dispute this most likely of scenarios- after all swallowing shit is not going to be good for anything right?
I am still at war with this company as they attempt to put some form of belated spin on their efforts to cleanse their sins of apathy and incompetence at being unable to detect "unmapped assets" and "misconnections." But they are liars, and are also attempting to dodge a legitimate Environmental Information Regulations request, which I have now taken to The Information Commissioner's office who will hopefully make them comply with the law.
I do not feel sorry for Severn Stench, not one bit. I do not feel sorry for them because they are a failure, and serial environmental polluter. I do not feel sorry for them because it was released last week that they had made mammoth 6.8% profits for the year to March 31  to £563 million. Of particular note is the fantastical tale told by Chief Executive of Stench Liv Garfield in the accompanying "good news" prattle:
"This has been a year where our teams have really stepped up, whether in response to customer needs in the face of one of the hottest and driest summers we've seen or by being named by Ofwat as one of the top companies in the sector when we received fast-track status for our future plans.
"At the heart of all of that is our drive to succeed for all of our stakeholders, which is shown in the results we're announcing today.
"They demonstrate not only that we can deliver for our investors but also that we're putting ourselves at the heart of the communities in which we live and work by building a lasting legacy for future generations."
Yes Ms Garfield, in Smethwick you have built a turdberg of shite that has poisoned birds.
Children continue to play in this faecal molasses termed "mud" by the useless Sandwell council- a repetition of the same lie that Severn Stench initially were spewing. I have an FOI in with the EA which should hopefully clear up the extent of the lie that was originally being told by this water company.
Over in West Bromwich, and a little update on the dire Liberty Drawn Tubes site that I blogged about back in March. This site was given planning permission last year by SMBC for residential development to Persimmon Homes. I had reported on the complete lack of security at this site and how dangerous chemicals had been left behind in this open all hours derelict void. People had been gaining access via the canal- a waterway so heavily polluted already with contamination and silt that it is now unnavigable, and also dumping  barrels of the stuff into the water.
I submitted a planning enforcement form to SMBC and have also made numerous phone calls to numerous agencies , but without much in response from any of them. I spoke to someone called "Anthony" from SMBC's environmental health department in March, but never heard anything further.
In April there was the predicted serious fire at this asbestos laden shithole. There is this priceless comment from WMFC.
"A spokesman for West Midlands Fire Service said approximately 180,000 litres of water was used from the canal, but most of it was recirculated back into the canal." 
So now the canal is even more contaminated with the chemicals released from this factory. I'm afraid I am losing respect for West Midlands Fire Service as an entity. They along with the police have stood by and done nothing about this factory site alongside Sandwell council. They are all merely redundant actors on this stage of toxicity.
I have attempted in desperation to  parlez with the absent Persimmon, but as you can see from below, customer service is not exactly their strongpoint.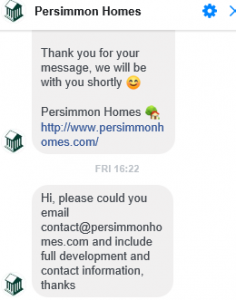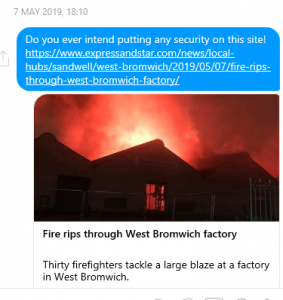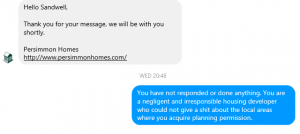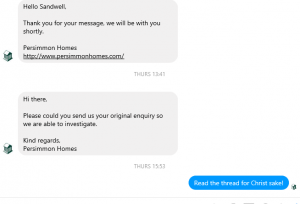 This Guardian article from February reveals more about this housing developer and their coining it in through dubious means, as well as providing second rate building schemes across the country.
They are reported to have made a £1 billion pound profit. "Last year the company paid an average of just £31,536 for each plot of land, and spent £112,295 on actually building each home."
One can see how these York based cheapskates operate, obviously security is not something that they care about.  The help to buy scheme can be seen here for the fraud that it is, as is the "need" to build more homes. You can see why developers and their political friends are so keen to build on every last bit of green space, as well as derelict foreign owned crap sites like Liberty Drawn Tubes.
The link between these two stories is that big companies really do not care at all about local communities that they soil- just like Albright and Wilson/Rhodia/Solvay.