When industries involving dangerous chemicals fold there is a very big problem. Who picks up the mess when these companies shut their doors for the final time and the workforce move on? I have seen it many times and stories about how these sites are left are chronicled by so called "urban explorers" who photograph what is left behind. One such example is the former "shitehaven" factory of Albright and Wilson. Chemicals and leaking drums were mixed with a sea of papers, some of them containing personal information about individuals previously employed there.
Such sites appear to be like something out of the film 28 days later, as though abandoned by a catastrophic event that has mothballed them. Such sites become the target of looters, scrap metal thieves and worse arsonists. The dangers that such places pose to local residents and the environment from  left behind hazardous and flammable chemicals are real.
One such place locally that I have stumbled on is the former Liberty Drawn Tubes (previously Phoenix Steel Tubes) in West Bromwich. The site closed production in November 2018, but prior to this Persimmon Homes had gained an interest in changing the use of the site for residential development. This was approved by Sandwell council last year.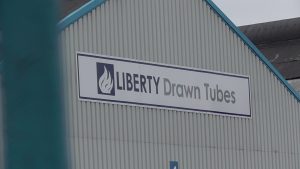 DC/18/62186 | Proposed erection of 128 dwellings and associated works. | Land Adjacent And Rear Of 37 & Land Adjacent 100 Phoenix Street West Bromwich B70 0AS
I have profound difficulties with using these contaminated industrial so called "brownfield sites" for homes. The former Tividale sewage works next to rattlechain lagoon is another example of how a "crap site" became what is now Callaghan and Wilson drives- right next to a hazardous waste site that prospective purchasers were not adequately informed about by the house builder.
But Persimmon have yet to make any appearance on the site, and no bricks have even yet appeared. This post is about the story of the disgusting manner in which those at Liberty Drawn Tubes- principally their directors and those with financial leadership of this company have left the site. It is quite apparent, as will be revealed that there is currently zero security.
Firstly the site location itself. The Balls Hill canal branch passes to the rear of the sprawling factory. This canal has effectively been long abandoned by the former British Waterways and now the Canal and Rivers Trust. The fate was effectively sealed by the crooked Black Country Development Corporation, who in their wisdom built the Black Country Spine Road ( a gypsy pitch hard shoulder) through it at swan village. The canal still goes under the road, but its connection to the Ridgeacre branch is now unnavigable, meaning that no boats can ever go down there.
It is heavily silted and full of decades worth of  industrial pollution- principally from Robinson Brothers and their stinking factory located at its entrance near the 8 locks.
Unfortunately it appears that with the closure of the factory, someone used the opportunity to put pallets across the silt to gain access into the abandoned site. It is quite visible from the towpath that the thieves have been helping themselves to what was left behind- and of greater concern , have  been removing drums of toxic and hazardous liquids which have found their way into the canal. It is quite clear that tanks and barrels and potential vats of chemicals remain on site, which were not decommissioned by the abandonment. This is of course the problem- but whose problem is it to deal with?
I contacted the Environment agency who basically said if there was no pollution then its not us .GOV. So I then contacted Sandwell council, who of course in their wisdom have granted Persimmon planning permission. I'm not sure if a single planning officer has ever set foot on this site, or certainly any councillor who approved the application- but what a great place to live eh? I also contacted The Canal and Rivers Trust.
Persimmon's "environmental consultants" (georisk) record what actually is on site in their site walkover in the application on behalf of Persimmon Homes, but this is where I have the profound difficulty. If both they and Persimmon are aware of the risk, and Sandwell council have approved an application knowing about this risk then why have all of them taken no interest in removing it, prior to said application being made? Here are selected extracts from the Georisk appraisal of the then  site conditions- which are now of course elevated due to the trespass and pollutant linkages which their report does not address.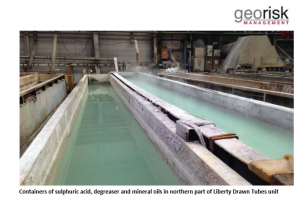 Of course the house building lobbyists and their political shills claim that reusing such sites will get them cleaned up- well does this mean that they can be deliberately left like this, and are they being for this purpose? Why are house builders even allowed to submit planning applications and have them granted BEFORE they have cleared up the site, and not left it unsecured as is the case here? All three of these agents , house builder, environmental consultant and planning authority are complicit in knowing the dangers to members of the public, and of course the directors of Liberty Drawn Tubes for leaving behind such a fucking disgusting mess.
It was quite clear speaking to the perplexed guy on the phone at SMBC , that there were no adequate forms to record the type of complaint that I was making- but it has I'm told been recorded by their environmental health team. BUT
THIS IS A SERIOUS ARSON RISK- INVOLVING DANGEROUS CHEMICALS THAT COULD BE RELEASED TO AFFECT RESIDENTS WHO LIVE ACROSS THE ROAD.

IT IS A RISK TO CONTROLLED WATERS AND THE CANAL AND WILDLIFE.

THERE IS ASBESTOS ROOFING AND OIL TANKS THERE.

THERE IS A DANGER TO TRESPASSERS ON THE SITE.
The EA will act only if there is a pollution issue. The fire brigade will only come if there is a fire which may involve the abandoned chemicals that are now scattered everywhere across the site and beyond. BUT WHAT ARE THEY ALL WAITING FOR? Is the risk less important than an actual event that they are all  prepared for within their remits but will not act to prevent it from happening?
It appears that some urban explorers have entered the site and posted a youtube video, which even further underlines the point that I am making here. I don't care about fucking boreholes and percussion tests to determine contaminated soils and if this can be remediated and sticking 600 cm of top soil over it to cover it up- Such desk studies by bookish theorics are worthless. The main issue is the current state of the place and the lack of security. But I just ask the question again- WHO PICKS UP THE MESS OF LIBERTY DRAWN TUBES BEFORE THE FIRST FOUNDATIONS FOR HOUSES ARE SUNK?